About sligit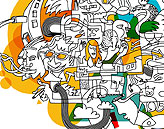 sligit is a marketing technology consulting company. The focus is on marketing programs involving technology and technology projects that will help your business grow.
Brian has over 16 years of marketing and technology experience working with businesses large and small. He is now applying this experience to help other companies. His primary skill sets include digital marketing, marketing strategy, email marketing, web analytics, data analysis integration, system integration, technical training, and technology consulting.
Why sligit?
When we travel as a family we always have snacks in the van. One of our favorites is licorice. When my oldest son was about 4 he was in the backseat swinging his licorice stick around like a lasso. When we asked him what he was doing he said he was "sligging it". To this day we refer to licorice as sligs.
When it came time to come up with a name for this business we wanted something that was short, catchy and fun and slig was perfect. Since everything we do is an action we wanted to make it an action word. When we work with you to help grow your business or solve complex business problems, we'll be sure to slig it!
Our Team

Brian Fedje
Brian's career has included not-for-profit association management, programming, IT project management, and all aspects of digital marketing (web and mobile applications, SEO/SEM, social media, email marketing, and marketing strategy). He has worked for Fortune 50 companies as well as very small family-owned businesses so he can interact with any kind of business. He also has an undergraduate degree in architecture from North Dakota State University and an MBA from Anderson University so his knowledge and experience is vast.